Welcome!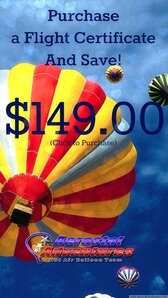 ​
Reserve your Sunrise Hot air balloon ride in Orlando today and join us on an journey you will share for years to come! Catch sights of spectacular wildlife, pristine untouched wilderness and breathtaking views!
Located in Orlando, Florida near Kissimmee and Disney theme parks/resorts, Aerostat Adventures has been offering Sunrise Hot air balloon rides for over 15 years, making us one of the original premier hot air balloon companies in Orlando.
Our goal at Aerostat Adventures is to insure you leave with wonderful memories that will last a lifetime. For this reason and safety, Aerostat Adventures limits the number of passengers to 4-6 per balloon! Smaller more personal flights is the best option when deciding on a balloon operation.
In addition, Aerostat Adventures only
employs the most experienced and talented FAA/LTA certified pilots in the country helping us maintain a 100% safety record. Safety
and comfort is priority #1
​So, if you're looking for something new, exciting, and exhilarating to do, then book your Hot air balloon ride in Orlando with Aerostat Adventures today.
​ Remember at Aerostat Adventures, not only do you leave us as a customer, but you also leave as a friend!​​​
More......
---
We Love our Passengers!
HD Video